Manchester Mistress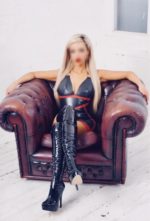 I am Mistress Lavinia, a tall beautiful blonde sensual yet cruel mistress dare you enter my chambers of dark mythical torture, feel my icy touch and sharp nails devour you. Endure my craft which is like no other, I will take full control of you mind, body & soul, and own every wimpy inch of you from the moment I get you alone in my chambers. Entranced by my beauty, lost in my labyrinth of emotional torment and seduced by my seductive charm. In overwhelming mercy you will be at my feet, in awe and admiration of my sheer dominante power over you. Surrender and submit to the supreme beautiful nightmare that is Mistress Lavinia and her wicked playground of pure pleasure and pain. Guaranteed discretion from the most experienced exquisite Manchester Mistress.
Mistress Cornelia is tall, sexy, mature and sensual, busty, blonde Mistress and a Professional Dominatrix in Manchester.
She's English, 5ft 8ins tall, has long blonde hair, blue green eyes and fabulous long legs.
"Lady by name and Lady by nature," this Mistress is sophisticated, educated and very experienced in the world of domination, fantasy and desire. Mistress Cornelia is highly creative, inventive and is a natural born Domina and the embodiment of power and the forces of lust. She feels it is her quest to possess your lust and your trust. She's also a great mentor who will direct you down the path of realizing your submissive and subservient side and she will transform you into anything she desires.
Mistress Cornelia has her own new and deluxe Dungeon in the area of northwest Manchester, which comprises of three Dungeons, a Sissy Room, Sexy Secretary Room, Medical Play Room, Three Domestic Setting and Shower Room. All her rooms are amazing and immaculately presented, they're specifically designed to impress any Mistress or slave in Manchester or throughout the UK (see Dungeon page for more details).
I am a professional Dominatrix with over 9 year's experience and reside at the top Chambers in Manchester, Manchester BDSM Dungeon.
It has been said It has been said that I ooze style, confidence, class, sassiness, and dangerous raw sexuality, who am I to argue. That is only half the story, I am a specialist in the art of seduction and f*cking with your pathetic dirty mind. When you session with Me you will NEVER forget it. I will have you under my spell well before it even registers in your brain. Or your dick. I am confident, assertive, in total control and more importantly safe, sane and discreet!