pvc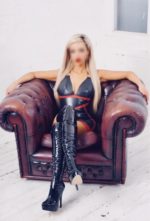 I am Mistress Lavinia, a tall beautiful blonde sensual yet cruel mistress dare you enter my chambers of dark mythical torture, feel my icy touch and sharp nails devour you. Endure my craft which is like no other, I will take full control of you mind, body & soul, and own every wimpy inch of you from the moment I get you alone in my chambers. Entranced by my beauty, lost in my labyrinth of emotional torment and seduced by my seductive charm. In overwhelming mercy you will be at my feet, in awe and admiration of my sheer dominante power over you. Surrender and submit to the supreme beautiful nightmare that is Mistress Lavinia and her wicked playground of pure pleasure and pain. Guaranteed discretion from the most experienced exquisite Manchester Mistress.
High Class, Enticing, Sensual Mistress. Come and see the Femme Fatale of the North West for a mind blowing session.
I do also love facesitting, foot worship and forced feminisation.
Standing at 5ft 9″ tall with a more than generous bust, I can intimidate and humiliate the toughest of men…but I do love a challenge.
I can be sensual and seductive providing you with the gentlest of tie and tease sessions giving you sensations you have never felt before, alternatively, if you desire a strict and unforgiving Mistress then I can more than fill those shoes also.
My sessions are completely tailored to your requirements and needs and no two sessions are the same.
When you contact me, you will find that I will speak to you as a human being, you will not be met with someone stern or frosty. We will discuss your desires and create a session you will never forget.
Above all things, I believe in looking after my subjects and ensuring they have received a fluid and professional service.
All I ask of my subjects in return is respect, good communication and trust.