rope Young tattooed couple, very highly skilled kinky man and wife. BBW female with athletic male clad in PVC, waiting to dominate and leave you at our mercy. Sessions will take place from hotel rooms, preferred locations on request. We pride ourselves on the discretion of our clients, and what goes on behind doors stays behind doors.
Can provide domination service via web cam for details please contact us. Lavish us with presents and we will be more willing to oblige to your kinks and fetishes. Will use personalised items as purchased by yourself on request. Will only contact via email or text via online session, when session has been pre arranged at a suitable time for both parties, paid for prior to session and duration discussed.
Please note NO SEXUAL ACTIVITY WILL TAKE PLACE, we are here to dominate nothing more.
Offering a unique service of non ink tattooing, provided by a qualified tattooist, you would receive all the pain but no permanent art left behind.
SERVICES INCLUDED:
Foot Worship
Hair Pulling
Trampling
Sissy Play
Light Bondage
Food Play
Water Torture
Uniforms of your choice (pre paid by yourself prior to session)
Paddling & Flogging
Tickling
Financial
Rope Work
Animal play
Candle Wax
Leg Worship
Body hair waxing (non genital, yours not ours)
Scratching
Voyeurism (at added cost and pre arranged)
Chastity
Whipping
Slapping
Pinching
Couple Domination
Plus much more, if you don't see what you are looking for feel free to ask but dont be offended if turned away
Remember we won't reply to texts unless pre arranged. Message for prices for used panties, shoes and sex toys.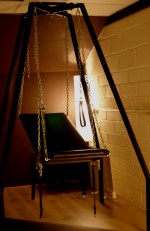 A luxuriously appointed fetish venue with a beautiful social area and a fully equipped Play Space/ Dungeon, furnished by House of Eros.
Ideally situated 5 minutes from J25 of the M5 in Somerset, is a hidden gem. Step through our unassuming front door into a wonderland of kink! The sumptuous lounge welcomes you, soft lighting, comfy sofas and a dining area for chat, a well-equipped kitchen to build your stamina and a relaxing boudoir bedroom. Upstairs is a House of Eros equipped play space for your imagination to run wild in, with many, varied pieces of furniture, with multiple uses.
The Studio is available for private hire to couples, small groups, Professional Dominants and submissives, photographers, and for gatherings, parties and events for up to 25 people. Rates are ridiculously low, so for the price of a meal for two you could instead spend a few hours punishing, inflicting or luxuriating at your leisure.
I do also love facesitting, foot worship and forced feminisation.
Standing at 5ft 9″ tall with a more than generous bust, I can intimidate and humiliate the toughest of men…but I do love a challenge.
I can be sensual and seductive providing you with the gentlest of tie and tease sessions giving you sensations you have never felt before, alternatively, if you desire a strict and unforgiving Mistress then I can more than fill those shoes also.
My sessions are completely tailored to your requirements and needs and no two sessions are the same.
When you contact me, you will find that I will speak to you as a human being, you will not be met with someone stern or frosty. We will discuss your desires and create a session you will never forget.
Above all things, I believe in looking after my subjects and ensuring they have received a fluid and professional service.
All I ask of my subjects in return is respect, good communication and trust.