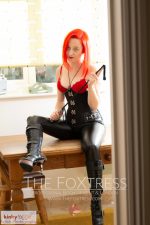 Description
Professional Bitch based in Kent and (London with 48-hour notice), I'm here for My pleasure and your pain, whether it's My sensual side or Me being a complete Bitch, depending on which side arises from your submission to Me.

My life is fully immersed within the kink community. I am the House Manager for DVS Events, as well as Duty Warden at both The Facility, London and LockDown, Birmingham. I'm also part of the crew at LAM (London Alternative Market). I also attend various other kink events when my busy schedule permits. I'm available for real-time sessions Monday to Friday (although weekend bookings are available at my discretion. If you can't meet me for real-time, you could always try and catch me on cam for some utterly filthy behaviour.
My advice is don't be fooled by this, I can be an untamed fox at times ;). My true passion is kink, BDSM, fetish, and I live it 24/7 – it's a lifestyle that garners such great enjoyment and fulfilment for me, I couldn't imagine my life without it now!
Despite all this, newbies should not be put off. On the contrary, I rather enjoy playing with novices just as much as I delight in sessioning with experienced players and pain sluts. I understand the limits and boundaries of those I play with and realize that not everyone is into pain, but that's the fun with our wonderful world, there's so much to play with. Perhaps you'll manage to bring out my nurturing, more sensual side – if you're lucky!
To request a session, please go here; https://thefoxtress.com/how-to-book/ and fill in the contact form.
FoXtress by name, but utterly FoXy by nature; a feral Vixen who won't hesitate to bite…
I love taking control!
Sessions:
from
1 Hour - £200 *
Mon - Fri **
*Dungeon Hire Fees May Be Required
***Weekend Availability Subject to Higher Tribute

Deposit will be required. Please give more than 48-hour notice before the date You want to session with Me