Description
I AM LADY DARK ANGEL
I am your QUEEN, your DOMINATRIX, your TORMENTRESS,
your SERIOUSLY DARK FIX.
I seek subs and slaves who genuinely wish to serve me in my tempting luxurious and well-appointed chambers in the city of Sheffield where overnighting is possible by arrangement.
As a SUPERIOR GODDESS, I demand total obedience and complete loyalty from all my subs. Serving me is your greatest honour and privilege. As your Imperious, Immaculate Goddess of pain and pleasure, I simply love getting into the zone. So will you when you strive to serve Me, always giving Me of your very best. Nothing else will do.
Dominance, submission, obedience and of course pain, are all hallmarks of a meeting with Me and you can be sure you'll be taking away cherished momentos of your time with Me. I will understand if you cannot be marked but I assure you that marks or not, you will never forget coming before me. Ever!! I will explore and extend your deepest dreams, hopes and fantasies, push you so you will feel fulfilled when you come before me and because of Me. Feel welcome to discuss all your inner thoughts with Me. As your GODDESS I have an acute understanding of the workings of the submissive mind and above all, My Supremacy over you.
As a Professional Dominatrix, I am aware of the need for you to enjoy your time with me so I will intoxicate you, inspire you and enslave you. Bring you to a place you had always envisioned but never experienced in reality. This will be Heaven ...... or perhaps the hell that you have been searching for and fantased about in your dreams. Search and dream no more. Once in my clutches you will not escape from Me. Instead you will forever escape to Me.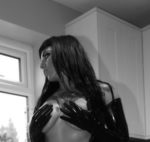 Description
Beautiful, strict and demanding femdom.