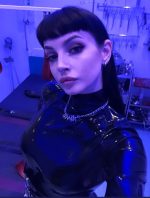 Description
A sinfully delectable mistress with goddess looks and an evil mind.
I am a true naturally dominant woman with a penchant for all things filthy and mean.
Wickedly devious, devilishly creative; cruel but compassionate.​
My authoritative demeanour and devilish charm will quickly have you enamoured and if you want Me to, I will push you to your limits and guide you to places you never thought you could reach through kink.
Some of My favourite kinds of play involve latex, long heavy bondage scenes, humiliation, degradation and corporal punishment. However, I can cater to so much more, see below to find out what else I can offer.
I welcome subs of all experience levels, genders, body types and ages (over 21 only) and although I can be cruel and commanding I am simultaneously light-hearted and fun, I love good conversation and connections as much as I love the nasty stuff which makes Me the ideal mistress for both newbie and veteran kinksters alike.
Description
Alluringly raw Pro-Domme. Gorgeous Alpha Goddess with a delightfully evil mind wrapped in a flawless feline body and the sweetest smile ever.
Young, beautiful, brutal.
I am a fierce Mediterranean Goddess who loves mixing painful torments with erotic tease and indulging in bizarre, excessive fetishes.
Mesmerizing and charming, I have the intrepidness of an amazon and the look of a retro diva.
Demanding and insatiable, playful, utterly erotic and evilly creative, I describe myself as the unexpected combination between an illuminated despot and an imperious lioness.
My body was made to tempt and subjugate the weak. I have a flawless ballerina figure with perfect champagne coupe breasts and a truly epic derriere. My skin is as fair as porcelain, scattered with thousands of freckles and moles. My dark hair are flowing and glossy, my lips pulpy and tempting. My big, bewitching eyes will have you in a trance before you even realise.
I enjoy playing with any sort of devices, restrictions and passionate about discovering your kinkiest desires, dirtiest needs and your hidden, perverted submissive side. I invest all my passion and skills in molding slaves into instruments for my entertainment and enjoyment.
Get teased, tortured and humiliated on cam, or book an unforgettable real time session..if you think you are brave enough to handle it.
The skin color, ethnicity, faith, nationality, background of my subs are completely indifferent to me, as long as they are genuinely submissive and able to keep me entertain and spoiled as I deserve.
I am genuinely bisexual and curious towards whoever lives their sexuality on the edge of morality and social acceptability.
Beginners welcome ...at their own risk.