brunette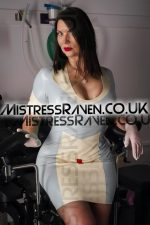 Description:
I am a very experienced Professional Mistress based in Rotherham, South Yorkshire.
Whether you are new, taking your first steps into your journey, or a lifelong experienced player, I will tailor our session to your needs and desires.
I can be the Latex Dominatrix, Medical Nurse, Domestic Disciplinarian or The Sex Therapist.
If there is something that you particularly want to try, then discuss it with me first, and we can decide what is appropriate for our time together.
Courteous dialogue is essential to ensure that we prepare for what you are about to embark upon.
Tell me your deep, dark secrets and fantasies, and I will make your dreams come true.
We are all different, so why shouldn't I be your dream Mistress.
Come and explore with me, 'Next Time it Could Be You!'
Description:
In My world today as a London fetish Mistress, I am the Queen of all that I survey! Once I sampled the heady delights of Female Domination, I knew I had found my natural profession. I adore the surge of arousal and sense of power which comes with my ability to subdue a BDSM slave, with bondage, S and M, fetish, and strict Fem Dom, to punish and torture my submissives into a state of adoring worship. However, I enjoy not only strict Fem Dom, but also sensual domination.
Description:
I do also love facesitting, foot worship and forced feminisation.
Standing at 5ft 9″ tall with a more than generous bust, I can intimidate and humiliate the toughest of men…but I do love a challenge.
I can be sensual and seductive providing you with the gentlest of tie and tease sessions giving you sensations you have never felt before, alternatively, if you desire a strict and unforgiving Mistress then I can more than fill those shoes also.
My sessions are completely tailored to your requirements and needs and no two sessions are the same.
When you contact me, you will find that I will speak to you as a human being, you will not be met with someone stern or frosty. We will discuss your desires and create a session you will never forget.
Above all things, I believe in looking after my subjects and ensuring they have received a fluid and professional service.
All I ask of my subjects in return is respect, good communication and trust.