Description
Do you dream about being dominated by a straight man and woman at the same time? But have never found a couple who can fully act out your fantasy how you want it. Or maybe you have visited professional dom's before and found the whole service was not as you had hoped. Well we are a real dominant couple who offer a range of services to submissive men. In a safe and unhurried and friendly, discreet atmosphere. In a dungeon in Surrey
You choose what you would like and we will try and turn your fantasies into reality. Maybe you want to be feminized and made to suck a straight mans cock, while his wife spit roasts you with her strap on? Maybe you you want to be cleaning or restrained or even under the bed while the bull fuck's his wife? Or is being whipped or punished what you yearn for?
Both of us offer dom services on our own as well as a couple. We are based near Gatwick and can easily travel to London to your place or hotel. We have a huge range of toys and uniforms and clothes and can fulfill many submissive men's and women's fantasies in a safe environment.
If you would like to see pictures feel free to look at some pictures here. Or more importantly I am sure you would like to see what services we are happy to offer, you can do that here. If you like what you see then make a booking with us here and turn your fantasies into reality.
Remember we are both lifestyle dom's and know how to make our subs feel how they want, whether you crave humiliation, control, ownership or just pain. We will administer all or any of these in a sane environment that we all can enjoy.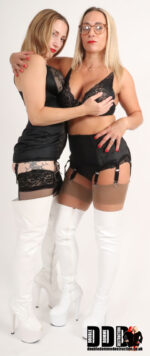 Description
We are two great friends and pro dommes who love to play together. We offer amazing sessions, where we bounce of each other, which means you end up with a great session experience. From double teasing, to double flogging. We love dressing up and have a huge selection of clothes and equipment. Between us there is not much we don't enjoy and offer. We can also bring in a male to offer cuckolding and forced bi
Description
We are Mistress Sabrina and Mistress Switchblade. We are real-life, lifestyle girlfriends. Mistress Sabrina is a domme, Mistress Switchblade is a switch. But she only subs to Mistress Sabrina. Together we dominate men, women and couples.
This is a unique opportunity to play with two, real, life lifestyle, kinky girlfriends.
In our sessions. We will both dominate you together. In the bedroom, in privacy, we have a dom/sub relationship together. Mistress Switchblade can also sub to Mistress Sabrina in sessions and together we can both dominate you.
We offer from very mild tie and tease, and lesbian cuckolding, to very strong punishment and everything in-between. We also have a lot of kinky friends who we play with, who are also pro-dommes & doms. So arranging Triple Domme Sessions or forced bi and cuckolding sessions is easy.