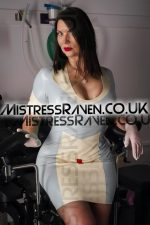 Description
I am a very experienced Professional Mistress based in Rotherham, South Yorkshire.
Whether you are new, taking your first steps into your journey, or a lifelong experienced player, I will tailor our session to your needs and desires.
I can be the Latex Dominatrix, Medical Nurse, Domestic Disciplinarian or The Sex Therapist.
If there is something that you particularly want to try, then discuss it with me first, and we can decide what is appropriate for our time together.
Courteous dialogue is essential to ensure that we prepare for what you are about to embark upon.
Tell me your deep, dark secrets and fantasies, and I will make your dreams come true.
We are all different, so why shouldn't I be your dream Mistress.
Come and explore with me, 'Next Time it Could Be You!'