Description
Welcome to the Opium Den. Be intoxicated by Mistress Opium.
Enter my dominating embrace.
Submit to my power.
Forget about your troubles.
Become your true self.
Turning full grown men into pliable little puddles at my feet is one of my many talents. Oriental Mistress with a passion for elegant domination, I am a pro and lifestyle Domme. My domineering yet friendly personality attracts a plethora of handsome suitors all desperate for an inkling of my attention.
My interests however are not to find a slave but to weave elaborate narratives of sexual fantasies within the boundaries of Femdom. I enjoy using my feminine charms and intellectual powers to push submissives into deep subspace. My intuition and keen observation will mean every little movement or reaction will not go unnoticed. I will play your body like a virtuoso. Nurturing matron, devious seductress, sadistic disciplinarian, are only some of the many roles I play.
Rest assured that in the Opium Den, your secret is safe with me, and your submission be protected. Expose the most hidden depths of your submissive nature to me and I will take you.
Whatever your level of experience, I will enjoy taking control of you.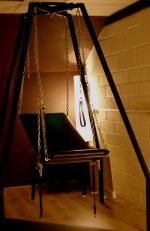 Description
A luxuriously appointed fetish venue with a beautiful social area and a fully equipped Play Space/ Dungeon, furnished by House of Eros.
Ideally situated 5 minutes from J25 of the M5 in Somerset, is a hidden gem. Step through our unassuming front door into a wonderland of kink! The sumptuous lounge welcomes you, soft lighting, comfy sofas and a dining area for chat, a well-equipped kitchen to build your stamina and a relaxing boudoir bedroom. Upstairs is a House of Eros equipped play space for your imagination to run wild in, with many, varied pieces of furniture, with multiple uses.
The Studio is available for private hire to couples, small groups, Professional Dominants and submissives, photographers, and for gatherings, parties and events for up to 25 people. Rates are ridiculously low, so for the price of a meal for two you could instead spend a few hours punishing, inflicting or luxuriating at your leisure.