Milton Keynes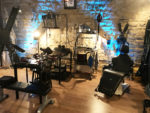 Description:
The studio opens its doors to private hire, film production and photo shoots. A private and discreet play space for everyone, catering for all levels. Fallen Angel Dungeon and Fetish Studio is situated just 15 minutes from both Jct 14 &15 of the M1, 10 minutes from the A5, we are 'middle england' as they say and can be reached from Birmingham in an hour, equally London in the same time. Milton Keynes has great train links into its mainline station, London just a 35 minute journey, and the studio is just 10 minutes from the station.
Description:
Medical Fetish Mistress at The Practice. A Fetish Medical Suite. A state of the art Medical Clinic for fetish medical treatments and procedures. The Practice Medical Treatment Suite is equipped with some of the finest, state of art medical equipment. Attention to detail in every aspect, from the surgical lighting to the breathing apparatus, to the medical equipment, patient drapes and medical fetish procedures.
Your Patient notes complete from the Consultation and Minor Treatments Suite, you will be accompanied into The Practice.
Description:
I enjoy up close, hands on sessions, intense sensory and physical stimulation, coupled with the immensly powerful exchange of the mental and physical boundaries that lie within you and are there for me to explore. I enjoy the exquisite journey of watching your very being submit, and ultimately the exhileration of being controlled by my desires.
Myself I am the english rose by design, brunette, huge amber eyes and curvacious. I am a Sadist, but can deliver this in many forms from cruel to sensual. I am well spoken, disciplined and focused, articulate and asthetically charged, with a wicked sense of humour!
I have my own impressive and discreet BDSM Studio and enjoy seeing novices as well as the more experienced, I session with a wide spectrum of people, fetishists, non-submissive masochists, and dominant males that enjoy the release and escapism, and of course slave's and submissives.