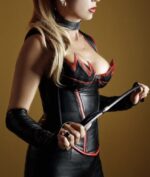 Description
I am a Pro Domme for the past 8 years and i have travelled internationally,
I will instinctively know what you need and i spank in such a pro way i can or not leave marks that can be seen,thats the postive part of a Genuine Domme that knows how to spank,
You will get a great Domme Session with me
I Specialise in Foot Fet and Tie and Tease and Humiliation and Interigations
Description
A Giantess and Big Beautiful Goddess. 5 foot 10 (178 cm). Feet size 8 (UK) 10 (US) 42 (EU). 17 stone (238lb, 108kg)
My favourite things are electroplay, ropes, corsets and shoes… and CBT.
I'm friendly and kind, but don't let that lead you into a false sense of security – I can subtly Dominate you – publically humiliate you and crush your pathetic balls under my giant feet and make you lick the ball sweat from them for the privilege.
Whilst I'm not a Findom, I can gladly ruin your wallet at the same time.
Description
Standing at over 6ft tall in my heels, I am a sensual but strict domme. Come and be smothered by my natural FF breasts or perfect bottom. I love to dress in rubber and heels that accentuate my feminine and powerful physique.
Kneel before me, and worship my perfectly pedicured feet, be they in heels, thigh boots, stockings or in the flesh.
I enjoy seeing novices, who will be trained to my high personal standards. I also cater to those seeking mild domination to very wayward slaves that need some serious attitude adjustment.
As a naturally creative person I enjoy thinking up cruel and amusing ways to humiliate and hurt my slaves. I enjoy my profession immensely, possess a keen intellect, and am always well presented. I have a background in the beauty industry, so as well as looking immaculate, I am an expert at sissification, feminisation and waxing.
Some of my other favourite pursuits include CBT, CP, strap on play, tie and tease and the more sensual side of domination, with a particular fondness for edging.
I want you to enjoy your session, and my enjoyment is of course, key. I want you to push your limits to please me. Your reward - my satisfaction.