Nottingham
Description:
I guide hapless supplicants down the rabbit hole of my desires. I train them with sadistically sensuality, harnessed madness, and an iron will.
And, like a spider having sucked all of the life from her victims, once I lose interest in my victims, I cast them out of my lair as emptied husks
You may offer me some of your unique kinks/perversion/ or fantasies to use as I mold your psyche to my will.
These are some of my favourites to work with, but you may amuse me with others:
Role-play
Sensual Domination
Age-Regression
Challenge/Forfeit Humiliation
Tease and Denial
Fantasy Wrestling
Pegging
Goddess Worship
OTK Spanking/Caning
Forced Release
Breath Restriction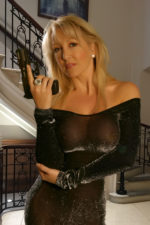 Description:
Deviant abuser of men. Professional Mistress in Nottingham. I speak softly but carry a big stick.if you are after the and tease best you look elsewhere
Description:
Offering individually tailored sessions, as one of the most experienced and established professional BDSM artistes in the UK, Mistress Emerald enjoys many types of play and is equally adept at introducing the nervous newbie as dealing with the most hardened masochist. Unhurried and with a sense of humour too!