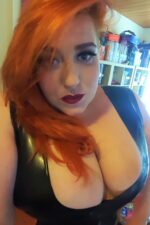 Description
Ma'am Malice the Sensual,Salacious,Sadist. 10 years in the business with a wicked mind & a sharp tongue.Plus Sized & powerful filled with a lust for taboo & debauchery! Corporal Punishment, slave training,facesitting, chaste & impact play to name but a few specialties that Ma'am enjoys to indulge in with fellow perverts!
Allow my voluptuous body to ensnare your senses, my words to bewitch your mind & my expertise to whip you into a world of magic.The true nature of submission.
Kinksters, sissies, subs, sluts and those seasoned slaves are all welcome to join The Orange Order! Mindfuck to the extreme with emerald eyes that draw you ever further down the rabbit hole of a D/s relationship!
Come & discover your never ending journey through the delights that BDSM has to offer your existence! It's time to Kneel for Ma'am & Serve Malice!