Description
I am a fully independent, 100% British, experienced professional Dominatrix catering to select submissive gentleman. I'm very attractive, slim, 5'5" tall, with dark brown blonde long hair. Whilst I am strict and sadistic I can also be decadently sensual too highlighting the duality of fetish play. My belief in the symbiotic nature of dominance and submission gives me a truly unique perspective that will enthrall and captivate you. I may be demanding and harsh one moment then deliciously tempting the next but all the while you will desire me.
Description
Mistress Maggie hopes to welcome you soon to her fully equipped chambers and Fetish Clinic in Preston, Lancs. A BDSM expert - Specialist in Medical play, Inescapable Bondage and Breathplay.
I am a very experienced and well established professional Domme, young looking mature 50+ lady. I enjoy helping gentlemen to explore kink and fetishism at all levels, whether it be for pure fun or to fulfil a desire to relent full control to a beautiful and/or sadistic Dominant woman.
All sessions are planned with safety in mind and to suit your special requirements, all sessions are strictly 1-2-1 and are available at my nicely equipped premises at a private location close to the M6/J31. Open Monday to Friday, 12 noon – 10pm.
If you get turned on by leather, rubber, stockings and boots etc, just let me know as I have a massive fetish wardrobe and can assure you that I dress to Dominate.
I am a medical specialist, with my own White Room, kitted out for kinky medicals and operations. Equipment includes extensive electroplay kit, unusual CBT, rubber plugs, rubber masks, gasmasks and associated paraphernalia for breath control. Rubber sheets, anaesthetic setup, enemas, anal toys, dildos and strapon treatments. Proper uniforms, rubber uniform, needles and syringes, steel this, steel that, steel the other . . . Catheters, sounds - you name it, I am a natural when it comes to medical play and nurse is an expert in making a bloke feel better, even if its painful. Patients are unable to resist making their next appointment.
All other aspects of domination, S&M, bondage and CP from mild to hard are all enjoyed and on the menu. Please check out my 'List of Services' and visit my website for a comprehensive guide to the kinky sessions I provide - all are well illustrated with examples of whats on offer. You will find BDSM themed stories on there, loads and loads of big session pictures, fetish related articles, reviews from slaves, and photo sets.
Thank you for checking me out. I look forward to playing with you soon.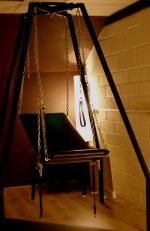 Description
A luxuriously appointed fetish venue with a beautiful social area and a fully equipped Play Space/ Dungeon, furnished by House of Eros.
Ideally situated 5 minutes from J25 of the M5 in Somerset, is a hidden gem. Step through our unassuming front door into a wonderland of kink! The sumptuous lounge welcomes you, soft lighting, comfy sofas and a dining area for chat, a well-equipped kitchen to build your stamina and a relaxing boudoir bedroom. Upstairs is a House of Eros equipped play space for your imagination to run wild in, with many, varied pieces of furniture, with multiple uses.
The Studio is available for private hire to couples, small groups, Professional Dominants and submissives, photographers, and for gatherings, parties and events for up to 25 people. Rates are ridiculously low, so for the price of a meal for two you could instead spend a few hours punishing, inflicting or luxuriating at your leisure.