Description
Next patient please! Welcome to my clinic. A stark white room where a gynecology chair centers the room. When booking a medical with Doctor Jane, who can be dressed in either traditional cotton NHS dress, scrubs or latex. Please keep an open mind. The Doctor is very aware that all patients play at different levels, some very mild. Where as some enjoy a more invasive and demanding engagement. The more a patient immerses himself in the scene the more he will get out of it. Remember, you only get out of it what you put in! Doctors orders!
Description
Elite Expert Professional & Lifestyle Dominatrix, Bondager, Fetish Model, Sex Coach Therapist & Educator.
15+ years International Experience. Private, fully euipped luxury chambers based in East Bristol, UK South West, 10 minutes from the city centre.
Frequent tours to Birmingham, London and Rome, Italy.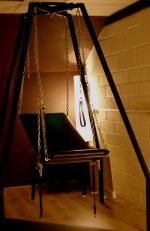 Description
A luxuriously appointed fetish venue with a beautiful social area and a fully equipped Play Space/ Dungeon, furnished by House of Eros.
Ideally situated 5 minutes from J25 of the M5 in Somerset, is a hidden gem. Step through our unassuming front door into a wonderland of kink! The sumptuous lounge welcomes you, soft lighting, comfy sofas and a dining area for chat, a well-equipped kitchen to build your stamina and a relaxing boudoir bedroom. Upstairs is a House of Eros equipped play space for your imagination to run wild in, with many, varied pieces of furniture, with multiple uses.
The Studio is available for private hire to couples, small groups, Professional Dominants and submissives, photographers, and for gatherings, parties and events for up to 25 people. Rates are ridiculously low, so for the price of a meal for two you could instead spend a few hours punishing, inflicting or luxuriating at your leisure.